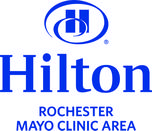 Hilton Rochester - Mayo Clinic Area
Group rate applies to 10 rooms or more.
Rate is based on availability.
Danielle Robards. 507.529.2441 or danielle.robards@hilton.com
Rochester's newest hotel, opening in Spring of 2019! Amenities include a swimming pool, discounted downtown parking, on-site restaurant and coffee shop, and skyway connections to downtown restaurants and facilities.