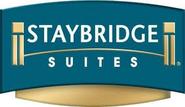 Staybridge Suites - St. Mary's Area
Mary Kruse 507.273.5106 (Groups of 10 or more) 
or 1.877.238.8889
Parking included
Breakfast included
Has pool
Stay sweet!   Relax by the fireplace or jump in the pool.  It's all happening, in our spacious suites, with plush bedding, full kitchen, Wi-Fi & Complimentary Breakfast.  BBQ in our courtyard or ask about special team meals.  Walking distance to Mc Donald's, KFC, Toppers, Cherry Berry, Olive Garden.
Complimentary Laundry
Parking - Secured $15/day
Check-in 3pm. Check-out 12pm.